HOME > Encounters Archive
Encounters Archive
Posted by:

K★R

2011/10/13 Thu 23:10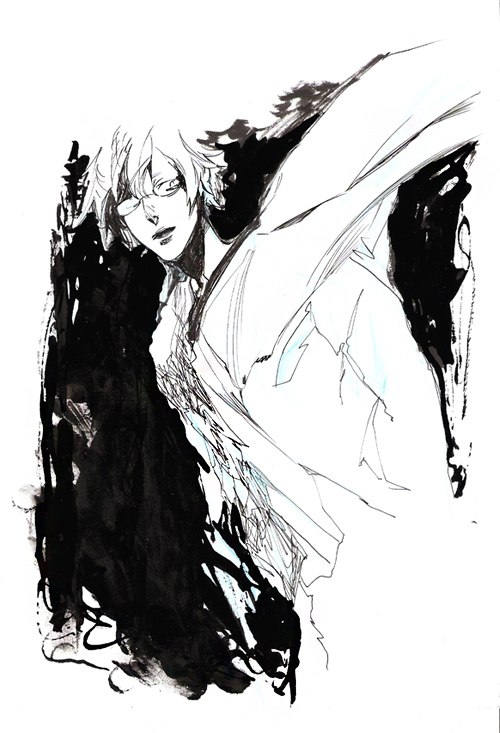 Just wanted to try something new ; lately I've been so stressed and tired that I barely have the time to draw anything personal (or to draw, sleep and
have a life at all LOL
)...
I also wish I had the time to make more coloured pictures ! ; - ;
Posted by: K★R
2011/08/18 Thu 12:32



Just a small warm-up (Ethan from my Encounter series).
I didn't ink with nibs for a long time so I got quite rusty ! (ι´Д`)ノ
I'm looking forward new inking material (nibs, inks) that should arrive by next month ;
I hope that inking comics will be much more enjoyable using them...
Also, I got myself this :
Very much love for Aki Shimizu's works and dynamic scenes ! This comic was mind-blowing, I really liked the action and its universe ; I recommend it to anyone who likes chinese mythology ! (It's a shame that Tokyopop stopped its publication after the volume 4, though ; the french publication is very neat.)
☇ HOME >Encounters Archive
Profile

(Author) K★R
|| 欣悦・霊感 | Reikan

18/ France/ banner is link free






This blog contains mostly :
☆ junk/sketches
☆ original characters/ fanarts.
★ life-related updates
★ work previews/updates.










A: 2/80 - N: 6/80 -------(secret !)

Calendar

« 2018 06 »

| S | M | T | W | T | F | S |
| --- | --- | --- | --- | --- | --- | --- |
| - | - | - | - | - | 1 | 2 |
| 3 | 4 | 5 | 6 | 7 | 8 | 9 |
| 10 | 11 | 12 | 13 | 14 | 15 | 16 |
| 17 | 18 | 19 | 20 | 21 | 22 | 23 |
| 24 | 25 | 26 | 27 | 28 | 29 | 30 |

Recent Entries

Categories

Monthly archive
Search

Feeds